Enhance Collaboration, Manage Risk, and Drive Better Business Performance
Organizations in the Finance, Insurance, and Banking industries face many challenges, from regulatory compliance to data security to the need to collaborate across global locations and mobile teams. Synchronoss solutions enable Financial Services firms to address these challenges and take advantage of the benefits of mobility and analytics.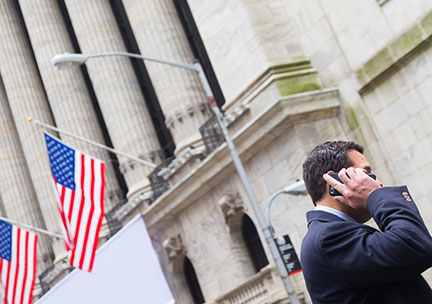 Secure Mobility Platform
A relationship manager on the way to a client's office receives a call from the client to include equity trading activity from the previous quarter in their presentation. From the taxi, the manager uses Orbit Mail to request the information from the equity analyst, and then uses Orbit Drive to share the prior quarter's Excel report with the team. Team members receive an email notification, review the report, and add the relevant graphs. The manager receives a notification when the presentation is ready – before arriving at the client's office.
A client wants to open a forex (FX) trading account immediately, for next-day trading. The senior compliance officer, who is traveling, needs to sign off on know your client (KYC) documentation to comply with Dodd-Frank. The legal team securely shares the documentation with the officer using Orbit Drive; she receives an email notification that the file is available, and requests a few changes. The legal team makes the changes and resubmits the documentation for final approval. The client is eligible for next-day trading because the document was approved, signed, and filed by end of day.
While at a conference, a private client advisor to a high-net-worth family receives a request for a new estate plan and trust structure. The team shares relevant documents using Orbit Drive. After reviewing the plan, the advisor suggests adjustments using document notes and stickies. Back in the office, the team makes the changes in the desktop version of Orbit Drive and shares the revised estate plan. During the meeting, the team presents the final version of the plan.
Universal ID
For organizations in the Finance, Insurance, and Banking industries, managing risk and fraud while maintaining compliance with regulatory and industry security requirements is more challenging than ever. Companies are increasingly turning to cloud-based solutions to address these needs, thereby gaining other advantages of the cloud: reduced complexity, minimize operating expenses, ease of scalability, and the ability to rapidly bring new services to market.
Financial Services organizations also face unique challenges, such as understanding the 2011 Federal Financial Institutions Examination Council (FFIEC) guidelines and maintaining compliance with the Payment Card Industry Data Security Standard (PCI DSS). And like other enterprises, the impact of increasingly mobile lifestyles and work styles of employees and consumers means that supporting technology innovations— such as Bring Your Own Device (BYOD) and use of smartphones as an authentication tool — become an essential element of a comprehensive and effective security strategy.

Universal ID offers a wide range of benefits to Financial Services firms:
Secure login with powerful protection for mobile employees and business partners
Reduced risk of fraud with strong authentication and ID verification to strict standards
Ability to approve transactions remotely for approvals for trades, transfers, and purchases
Integrated digital signing function for loan closing and new account creation
Efficient and cost-effective solution for addressing FFIEC guidelines for two-factor authentication
Analytics
Synchronoss Analytics solutions can help you drive better business performance through increased revenues and competitive advantage, reduced costs, more efficient operations, and enhanced customer satisfaction. Synchronoss enables you to analyze your business by:
Mining historical information to understand what happened.
Using general statistics to understand why it happened.
Using predictive modeling to understand what will happen next.
Using optimization, deep learning, and cognitive computing to understand what is the best that could happen.
Today, financial services firms are dealing with an explosion of operational, component, and external data that must be managed, analyzed, and supported throughout the decision-making process. Synchronoss can help you augment your resources, skills, and experience – enabling you to move forward and maintain high performance.